現在地

REPERTORY
About TCB

REPERTORY

Introducing the Tokyo City Ballet repertoire.
Please have a look at the art work performed on stage. Starting from the classical masterpieces to the original librettos.
REPERTORY
The Nutcracker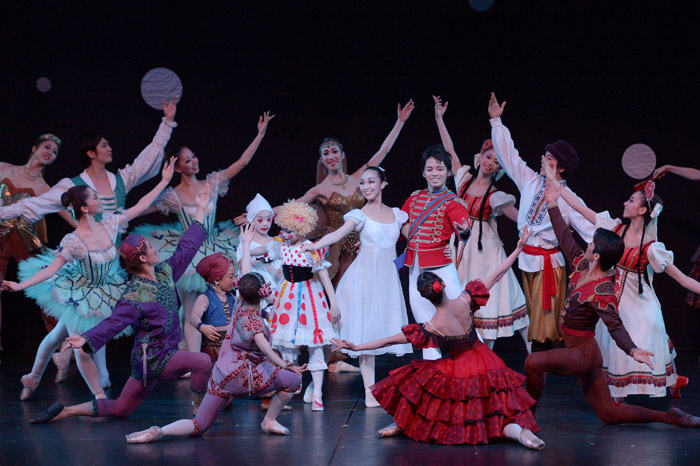 The Nutcracker
Production and choreography: Kiyoko Ishii (based on the original work by Ivanov)
Music: P.I.Tchaikovsky
Premiere: 1968
Photo: Takashi Shikama
"The Nutcracker," shown all over the world during the Christmas season, is counted in one of the Tchaikovsky three masterpiece ballet. This piece created by our company choreographer Kiyoko Ishii. It is about a little girl named Clara and the nutcracker. A great adventure unfolds in the beautiful land of sweets and as Clara continues to grow and mature throughout the story. Every year in the collaborated performance with Koto-ku, children who have passed the company audition dance in ActⅠ. This well-known performance is a dream come true for these aspiring young artists to become professional ballet dancers by performing with our company dancers.
Coppelia
Coppelia
〜A Joyous comical love story.〜
Production and choreography : Kiyoko Ishii
Music: L Delibes
Premiere: 1988 (directed by Goro Arima)
Photo: Maki Terada
An old toymaker, Dr Coppelius creates a beautiful doll Coppelia which causes a quarrel between Swanilda and Franza Enjoy the comical interaction between Swanilda, dressed like Copplia and Dr Coppelius. One of the highlights is the powerful folk dance to the fabulous music by Delibes. This is one of the most performed repertory by the company. Act Ⅲ"Festival of bells" has been performed for "the NHK Ballet Festival 2013 "
Swan Lake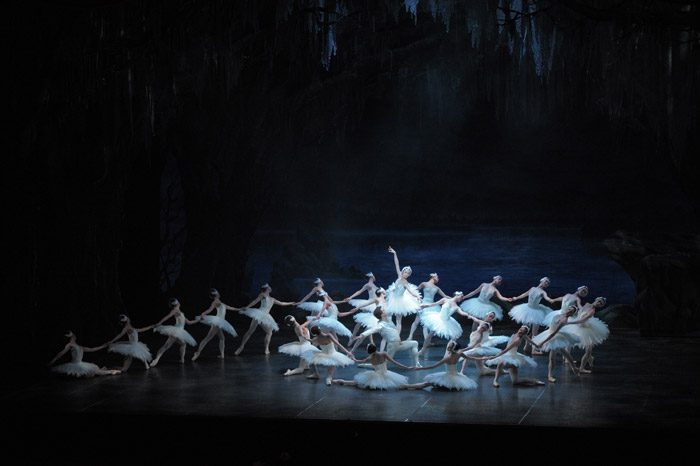 Swan Lake
Production and choreography : Taneo Ishida after Petipa・Ivanov notation
Music: P.I.Tchaikovsky
Premiere: 1969
Photo: Takashi Shikama
It has been one of the company's main repertory since 1969. Since then it has been revised. Directed and choreographed by (the late) Taneo Ishida who had been a member from the establishment of the company. Ishida's reproduction of "Swan Lake, " which is performed all around the world, is based upon the Petipa, Ivanov notation. In this original libretto by Ishida the climax of the finale is unlike the classical version. The true love of Odette and Prince Siegfried nurture a miracle to the two swans. It is highly commended as a performance with magnificent music put together with a scene which inspires one's heart.
Giselle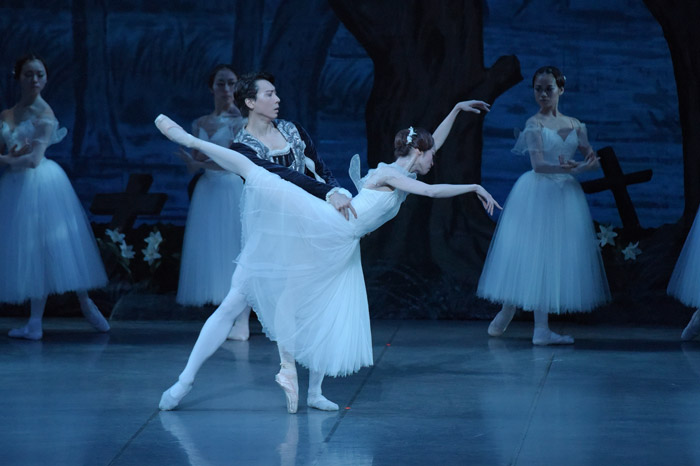 Giselle

Production and choreography by: Toshihisa Kanai
Music: A. Adam
Premiere: 1969
Photo: Takashi Shikama
"Giselle," is a love story between Duke Albrecht, who disguises his nobility status and a beautiful village girl Giselle. Innocent true love is seen in this tragic fairy tale love story, which is directed by Toshihisa Kanai. He is known for his performance as Albrecht's rival Hilarion during its premiere season. This story splendidly flows naturally through each act. In Act 1 the incidents that occur in the village and the characters are elaborate and shown in great detail. In Act ll the corps de ballet become apparitions in a mysterious but beautiful setting. Giselle is one of the greatest classical ballet performances with attractive and different scenery in each act.
Bolero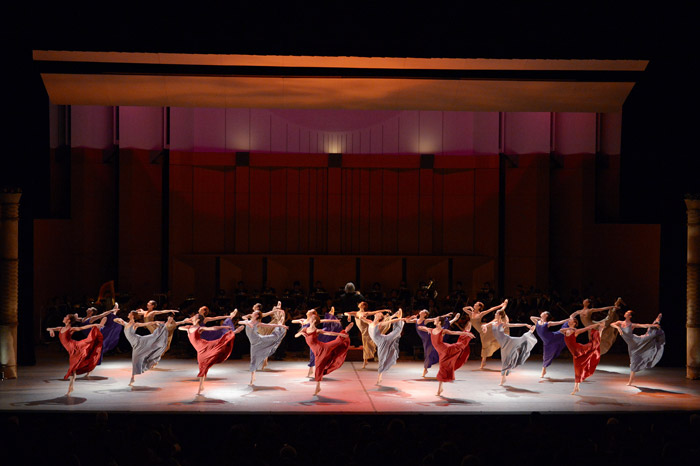 Bolero
Reproduced and choreography : Kiyoko Ishii
Music: M. Ravel
Premiere: 1996
Photo: Takashi Shikama
Bolero is one of our most highly esteemed productions, and has been performed many times. Female dancers move dynamically to Ravel's masterpiece. The repetition of unchanging rhythm remains constant as the music gradually thickens. In the climax all the performers dance together to the rhythm and melody. The art of music prevails in this performance.
Onna-men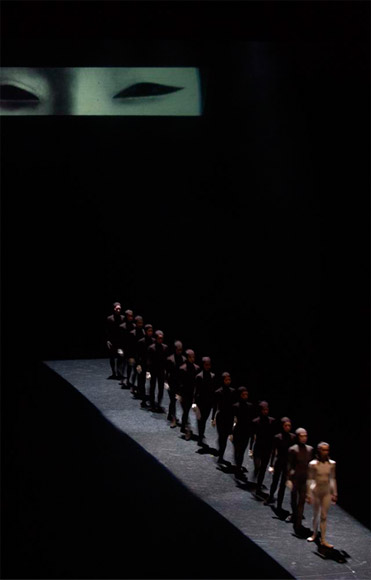 Onna-men
Choreography: Taneo Ishida
Music:Toshiro Mayuzumi「NIRVANA-SYMPHONY」
Premiere: 1998
Photo: Masanobu Yamanoue
This production of Onna-men is a drama created by light and shadow, expressing the relationship and conflict between a man and woman. The Noh-men (Noh-masks) is the most beautiful object which carves the human "shadow" the hidden emotion. The beauty of the shadow dwelling in the "Onna-men" the female mask shows not only joy, but anger, sorrow, and pleasure, presenting deep emotional expressions.
Physical Noise
Physical Noise
Choreography: Nobuyoshi Nakajima
Music::Hybrid Fetish Park
Premiere: 1999
Photo: Kiyonori Hasegawa
In Physical Noise the word noise refers to "static interfering noise・undesired sound". In every scene noise is ideologically, scientifically, politically, and even physically shut out, drawing a bead on a monism-like orderly routine. The art of ballet eliminates physical noise and replaces noise with the design of choreography. The physical alongside the abstract inspires the five senses in this piece.
A Midsummer Night's Dream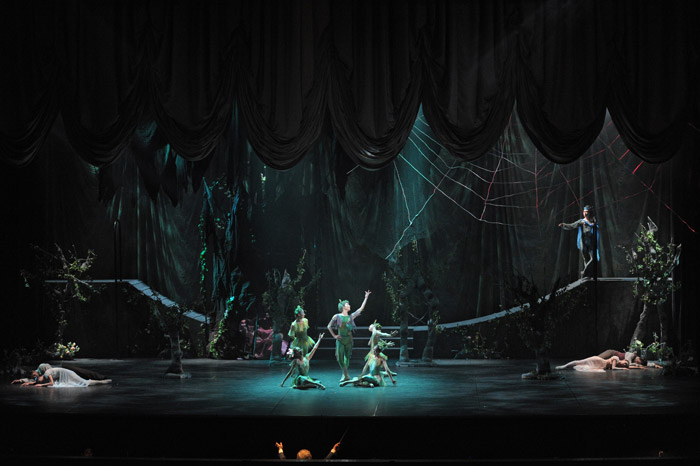 A Midsummer Night's Dream
Original: W. Shakespeare
Libretto・Production : Nobuyoshi Nakajima
Choreography: Nobuyoshi Nakajima・Kiyoko Ishii
Music: F. Mendelssohn
Premiere: 2003
Photo: Takashi Shikama
In A Midsummer Night's Dream, the character the fairy Puck likes to play tricks and has a potion that makes people fall in love, causing much comical mischief. This performance has become the first Grand Ballet produced by the performing art tie-up with Koto-ku. Fairies and humans mingle resulting in confusion. The finale includes a merry wedding making all the mischief worthwhile. A Midsummer Night's Dream is an enjoyable production for adults and children, a popular piece for all.
Carmen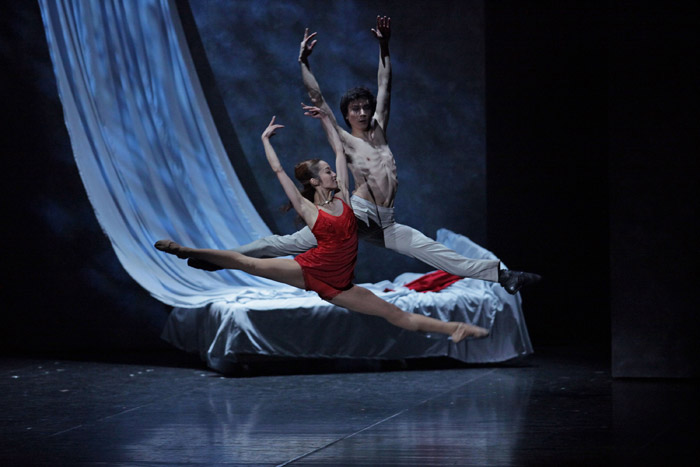 Carmen

Original: P. Merimee
Libretto・Structure・Production: Nobuyoshi Nakajima
Choreography: Nobuyoshi Nakajima・Kiyoko Ishii
Music: G. Bizet
Premiere: 2006
Photo: Maki Terada
Carmen is a novella by Merimee and is based in Spain. The stage is moved from Spain to today's modern Tokyo. Carmen works tirelessly at a pharmaceutical company in the big city and Jose works as an honest guard. Together they create a story of greed and isolation. This piece is a well-known production by Nobuyoshi Nakajima. His ideas are obtained from a true story, adding bold dramatization, and interlacing social satire to this modern version of Carmen.
Romeo and Juliet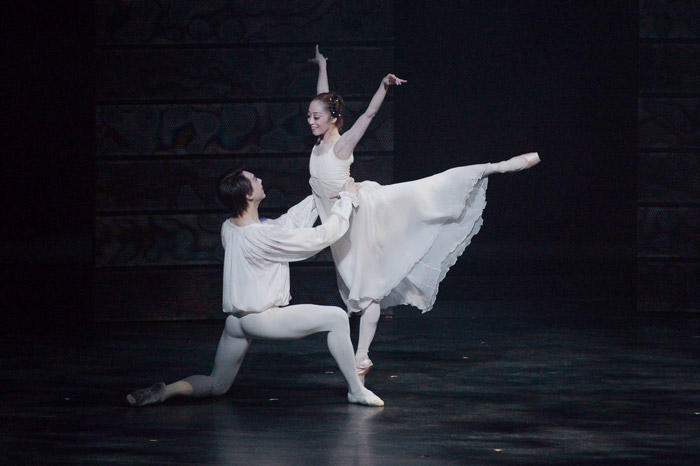 Romeo and Juliet

Original: W. Shakespeare
Structure・Production・Choreography: Nobuyoshi Nakajima
Choreography: Kiyoko Ishii
Music: S. Prokofiev
Premiere: 2009
Photo: Takashi Shikama
Romeo and Juliet is a production consisting of two acts with speedy scenery change and a moveable stage design. This beloved young couple love each other desperately but are tossed about by fate. Act I includes a conflict between the Capulet and the Montague family, as well as the famous balcony scene by Romeo and Juliet. In Act II Juliet writes a letter in which she plans to meet Romeo. Unfortunately the letter does not reach Romeo and the gears of tragedy begin to spin. In this drama as the soul mates appear as Kyogenn Mawashi, they play an indispensable supporting role as a story teller bringing a dynamic flow to the play. This is one of the characteristics of Nobuyoshi Nakajima's production.
Symphony No.7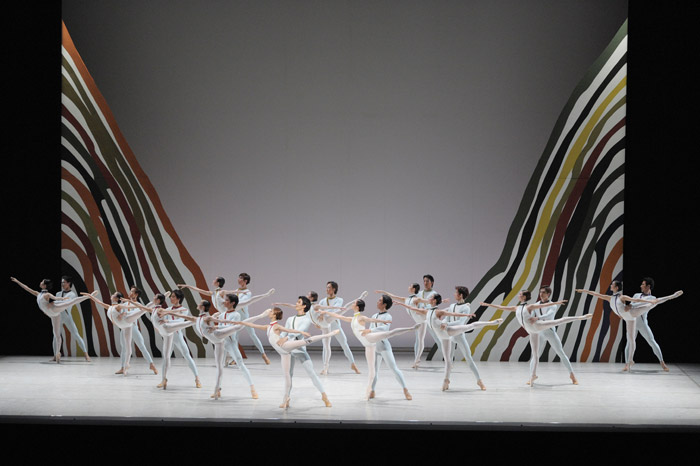 Symphony No.7
Choreography: Uwe Scholz
Music: L. Beethoven
World Premiere: 1991
Japan Premiere: 2013
Photo: Takashi Shikama
Premiere performed by the Stuttgarter Ballet in 1991. This performance of Symphony No. 7, consists of four movements, and expresses the musical notes precisely, as if the music becomes steps and movement. The company performed the Japan Premiere in 2013. The following year it was performed for the "NHK Ballet Festival 2014" with great success.