現在地

PROFILE (TOKYO CITY BALLET)
About TCB

PROFILE (TOKYO CITY BALLET)
PROFILE (TOKYO CITY BALLET)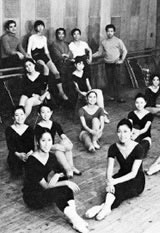 The company was founded in 1968 by the collaboration of Goro Arima, Taneo Ishida, Michio Uchida, Hiroshi Hashimoto, and Tatsuo Noguchi. Since then more than 110 pieces have been performed starting from the classical ballet such as "Swan Lake" and "Giselle" to the reproduction pieces "Carmen""Romeo and Juliet" and other original contemporary repertoire.
The company has presented approximately 1500 performances which include independent performances, performance for the Association of Public Theaters and Halls in Japan, for membership groups that support performing arts, for schools, for the opera and for oversea tours.
In 1994 the company became the first ballet company to link performing arts with the local government (Koto-ku, Tokyo). Regularly scheduled performances are held at the Tiara Koto (the Koto municipal hall) and outreach performances are given at schools.
The company also presents educational programs collaborating together with the Tokyo City Philharmonic which is an orchestra that also links fine arts with Koto-ku. We put effort in joining with the local community including its local shops. "The Town's ・Nutcracker Festival" is an example.
In 2011 we produced "The Tokyo City Ballet Salon" which enables the company to further interact with the next generation of young choreographers and to bond with the audience. In 2009 the company became a general incorporated foundation.